About Community CarShare
Community CarShare is a non-profit co-operative which provides its members access to vehicles on a self-serve, pay-per-use basis. The co-operative was founded in 1998 and operated first in Kitchener-Waterloo, adding service to Hamilton in 2009, Elmira, Guelph and St. Catharines in 2013, and London in 2014. The co-op's innovative Quantum Station Program was launched in Waterloo Region in 2015, with support from the Ontario Trillium Foundation.
Community CarShare's mission is to deliver a carsharing service which empowers people to make affordable and sustainable transportation choices.  As well, Community CarShare upholds the International Co-operative Principles through the following values:
Service: Providing an excellent membership experience by being responsive, fair, and transparent.

Sustainability: Guiding the transportation system towards an affordable, efficient, and inclusive future.

Collaboration: Supporting employees, volunteers, partners, and peers by building strong relationships.

Innovation: Advancing the carsharing sector through leadership, creativity, and long-term vision.
Reservations for CarShare vehicles can be made for as little as 30 minutes, or as long as needed, and gas and maintenance costs are included in driving rates. By filling in transportation gaps with occasional car use, Community CarShare also helps support the use of greener transportation modes such as transit and cycling. Many CarShare members also already own a car, but supplement their driving needs with CarShare reservations a few times a week.
Community CarShare currently has more than 1900 members who have access to a fleet of 60+ vehicles, stationed along main transit corridors. As membership grows and vehicle usage increases, additional vehicles are added to the fleet to meet membership and usage demands.
Community CarShare is governed by a volunteer board of directors, elected from the membership, and supported day-to-day by six full-time staff members.
Our History
Community CarShare Co-operative Inc. was founded in April 1998 by a group of 10 friends who wanted to save money and drive less by sharing a car. It was the first carsharing organization in Ontario, and it was originally known as The People's Car Co-operative Inc., or just People's Car Co-op. The co-op was later known simultaneously as Grand River CarShare (in Kitchener-Waterloo) and Hamilton CarShare. The co-op began using the name Community CarShare in 2011, and in 2015 the organization's incorporation name was updated to match.
Community CarShare's roots are in the heart of Kitchener-Waterloo, where the co-op began quietly with a donated 1988 Toyota Tercel. When membership was opened to the public the next year, a 1991 Honda Accord became the co-op's second vehicle.
The co-op spent the next several years developing partnerships and securing grant funding to help grow the program. One to two staff managed operations at the time. By 2005, the co-op had 140 members and eight vehicles, and an online reservation system with integrated electronic invoicing.
In 2009, the co-op's geographic borders expanded beyond Waterloo Region when a group of Hamiltonians decided to join the co-op and work to expand service to that city. In less than five months, 50 new members were recruited, and three vehicles were launched in Hamilton in September 2009.
In November 2009, the co-op moved from two to three staff, and a fourth joined the team in March 2011. As of Spring 2012, the co-op's membership had grown to 550 members, and the co-op had a fleet of 18 cars. Many of those older cars were soon sold and replaced with brand new ones, as Heffner Toyota began providing vehicle leasing to Community CarShare.
In 2013, the co-op grew its borders again, by adding service to Elmira, Guelph, and St. Catharines. In early 2013 the co-op also completed upgrading to an in-car technology and Smart Card access system for the fleet, eliminating the need for members to fill out a paper trip log after each reservation.
In 2014, we launched London as a service area and increased our staff capacity. The innovative Quantum Station Program was launched in 2015 in Waterloo Region, with funding from the Ontario Trillium Foundation.
In 2015, we launched in Cambridge adding a new city and two new vehicles to our fleet.
In 2016, we launched our new software system Engage which streamlined our accessibility and member services.
The co-op now operates a fleet of 60+ vehicles, serving more than 2000 members, with a compliment of six full-time staff.
Our Team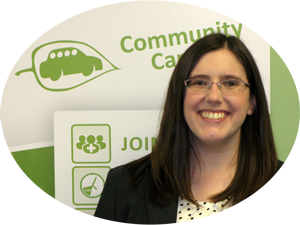 Janet MacLeod
Executive Director
Passionate about sustainable transportation, Janet helps people change their driving and commuting habits and reduce their carbon footprint. In addition to working in carsharing, Janet sits on the board of Hamilton Bike Share, Inc., and on the co-operative front, Janet is the treasurer of the Federation of Canadian Carsharing Co-operatives. Janet holds a Bachelor of Journalism (Honours) degree from the University of King's College, and she is currently studying nonprofit sector management part-time at Ryerson University.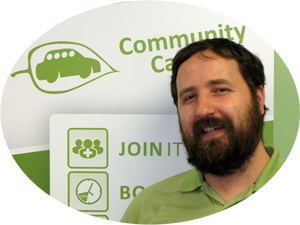 Matthew Piggott
Business Development and Member Services Manager
"Citoyen du monde. I love serving our members, and helping recruit new ones. Call and let's talk about getting CarShare in your neighbourhood." With a background in environmental studies Matthew is passionate about sustainable transportation initiatives. He is an avid promoter of BikeSharing and is a bicycle polo enthusiast.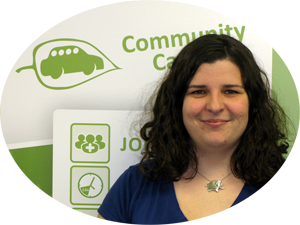 Heather Bigelow
Operations Manager
A strong supporter of all modes of transportation, you can find her behind the wheel of a shared car, hanging from the strap of a local bus or strolling down a neighbourhood street. Heather started off as Fleet Coordinator at CCS and was quickly promoted into her role of Operations Manager. A graduate of the Environment and Business program at the University of Waterloo, Heather is a proud supporter of the Co-op model and believes that businesses can do well while also doing good.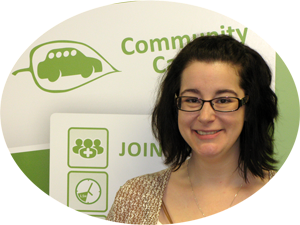 Ashley Keenan
Communications and Member Relations Coordinator
Ashley is passionate about sustainable cities and believes that changes on the personal level can have large scale impacts and create global movements. She brings her love of working with people to her role; helping members understand and love Community CarShare as much as she does. With a background in Environmental Management and Assessments, she enjoys making a difference – one carbon footprint at a time.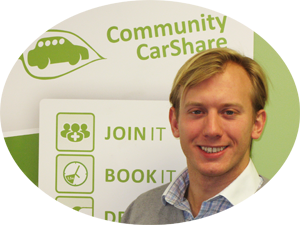 Corey Helie-Masters
Marketing and Business Development Coordinator
From growing up in a small town to living in the Ambitious City, Corey has developed a love of urbanism and city building that shines through in his involvement in #HamOnt. A graduate of McMaster University's Kinesiology and Geography programs, he believes that a well developed CarShare network can be a part of helping everyone achieve freedom of mobility while also freeing them from the cost of ownership.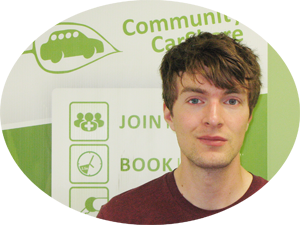 Simon Baker
Fleet Coordinator
After 5 years of car share industry experience in British Columbia, Simon is excited to be back in his home province of Ontario! Simon is excited to work with, grow, and develop our co-op and brings a unique set of skills to Community CarShare. As Fleet Coordinator Simon makes sure that our vehicles are up and running so that we are always ready to serve and benefit the community. Simon has a passion for cities, transportation, communities, and all of the interactions and connections between them. He also creates digital art and is an explorer of small-town Ontario.
The Co-operative Model
Community CarShare operates as a co-operative, which means members are also owners of the organization. Each member is entitled to a vote at the Annual General Meeting, and members have the opportunity to participate in governance of the organization, through being elected to the volunteer board of directors, or by volunteering on a committee.
Community CarShare is incorporated as a non-profit co-operative without share capital (meaning any membership loans paid to the organization do not gain interest, and the co-operative does not pay dividends to its members), under the Ontario Co-operative Corporations Act. In addition to the Act, the co-op's By-Laws outline the governance structure of the organization, and the Member Manual outlines the expectations of members of the co-operative.
The co-op also adheres to the Co-operative Principles (listed below), which were adopted by the International Co-operative Alliance. For more information about Co-operatives, visit the Ontario Co-operative Association.
Because co-ops embody the co-operative principles, members have control of their enterprises – they aren't simply clients. Throughout the world, co-operatives help communities develop by giving individual members a voice and a stake in how they build their future.
At this co-op, members can get involved by sitting on a committee, or on the board of directors. Directors are elected by the membership at each AGM, and provide leadership for the direction of the co-op.
Funders
Community CarShare's Quantum Station Program is funded by the Ontario Trillium Foundation. The two-year grant is worth $146,000, and is providing support for our co-op's innovative new program. Read about the Quantum Station Program here.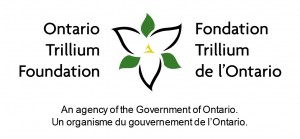 The co-op has worked with a number of funding organizations since its inception. These organizations have been integral to the success of the co-op, and have enabled the co-op to grow into the organization it is today. They include:
2012
The Region of Waterloo, through its Community Environmental Fund, provided the co-op with $15,000 towards the purchase of an electric vehicle. In August 2012, a Mitsubishi i-MiEV was introduced into the fleet, and is stationed at the Region of Waterloo's administration building at 150 Frederick St., Kitchener.
2011
The City of Hamilton provided the co-op with a $150,000 line of credit for a term of ten years, to support the growth of carsharing in Hamilton.
The Ontario Co-operative Association, through its Cooperative Internship and Experience Program, provided six months of wage funding, with which the co-op hired its fourth staff person and first full-time Hamilton position, a Hamilton Services Coordinator.
2010
The Ontario Co-operative Association, through its Technical Assistance Funding, provided $5,000 to the co-op for the re-development of its website.
2009
The City of Kitchener, through it's Local Environmental Action Fund, provided $25,000 to the co-op to support a variety of marketing initiatives, including parking signage, brochures, and online marketing.
Clean Air Hamilton provided $5,000 in funding to the newly-formed Hamilton CarShare, to help support start-up costs and marketing costs for the co-op's newest service area. Green Venture also assisted the co-op in accessing this grant.
The Ontario Co-operative Association, through its Cooperative Internship and Experience Program, provided six months of wage funding, with which the co-op hired its third staff person, a Member Services Coordinator.
2008
Transport Canada, through its Moving on Sustainable Transportation program, provided funding to complete a study about the feasibility of providing carsharing service in the rural communities surrounding Kitchener-Waterloo.
2004-2006 – Moving to Sustainability: CarSharing in KW
2001-2002 – Moving to Cleaner Air
The Ontario Trillium Foundation, The Co-operators Development Fund, and the City of Kitchener Community Development Infrastructure Program provided funding for a business consultant to create business plan, and for a marketing and management/administration staff person.
In 2002, the Regional Municipality of Waterloo, the City of Waterloo, and the City of Kitchener, each provided the co-op with a $30,000 line of credit, on a seven-year term. All three lines of credit were renewed in 2009 for an additional five-year term.
2000
The City of Waterloo endorsed the co-op and provided $1,800 worth of in-kind parking, the City of Kitchener endorsed the co-op and granted almost $9,000 towards the Moving to Cleaner Air project, and the Regional Municipality of Waterloo endorsed the co-op and included the promotion of carsharing in traffic-reduction plans.