For this premium service, reservations made for Quantum vehicles cost an extra $7.50 per trip on all rate plans.
You are able to request any of our vehicle types (Matrix, Corolla, Prius C, Caravan, RAV4, Tacoma pickup truck, or Transit Connect cargo van) at any of our Quantum Stations in Kitchener, Waterloo, and Elmira.
Select your date and time like usual. To allow for staff to relocate vehicles, reservations must be made with 24 hours advance notice. With less than 24 hours' notice, you may still extend the time of an existing reservation if the vehicle is available.
To search for availability of a Quantum vehicle on our website, choose the Quantum list from the drop-down menu on the New Booking page.  You will see a list of all vehicle types you can reserve as vehicle numbers 002 through 008. Click "Book It" next to the vehicle type you want.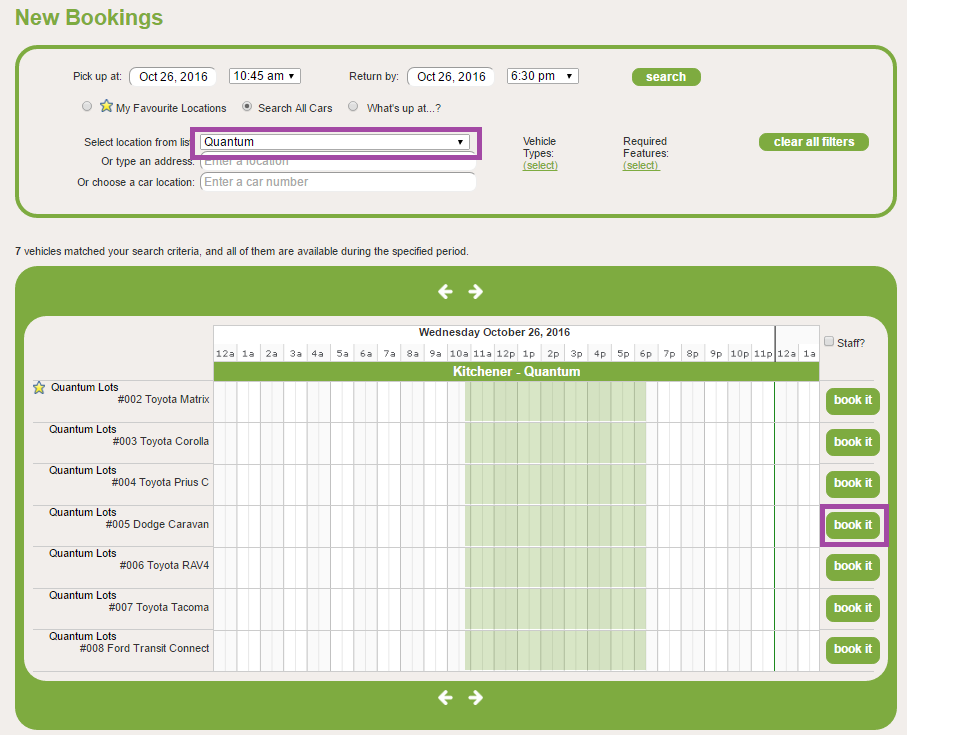 After you click "Book it", you'll see a confirmation screen like the one below. On this page, choose your Quantum Station from the drop down list. This ensures that the car will be waiting for you at the correct station. Please see the map for station details.
For Quantum bookings, this is considered the request confirmation screen. It is important to note that you are making a reservation request, but do not have an actual reservation until staff review your request and see if we have that vehicle type available. We will grant your request if possible, at which point you'll receive a "Change Confirmation" email with the information for the specific vehicle that will be delivered to you. We will contact you if your requested vehicle type is unavailable, and work to find an alternate solution.
You may also input special requests for the vehicle type you would like, such as pet-friendly or a car with a 407 transponder. Please write these requests in the "Your notes" section on the confirmation screen. We will accommodate them whenever possible.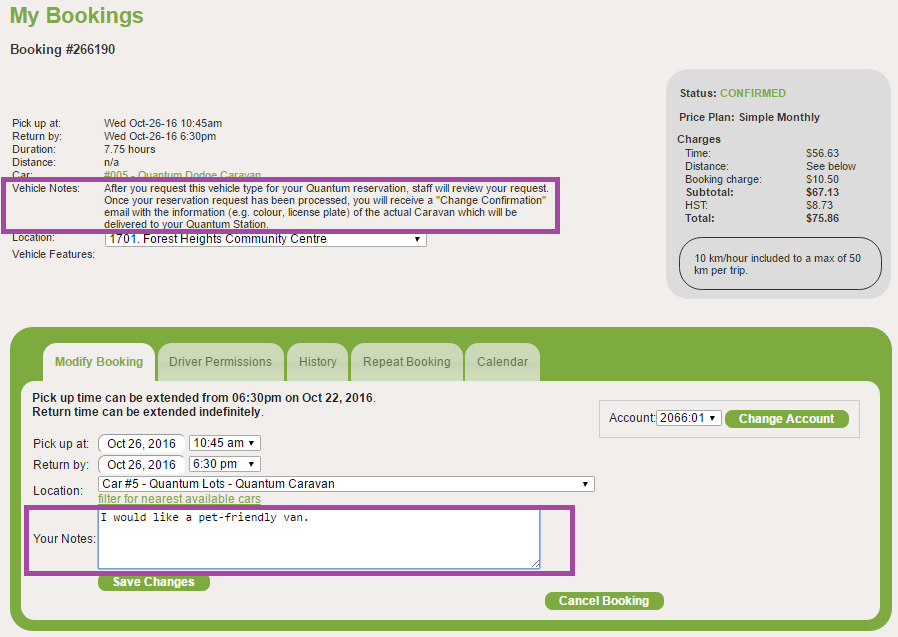 When you make a reservation request, you will receive a "Booking Confirmation" email. Consider this a confirmation of your request. When your request is processed, you will receive a "Change Confirmation" email with the specific information regarding the vehicle that will be delivered to your Quantum Station, such as the colour and license plate. This is when you know your reservation has been confirmed.