Corporate Member Spotlight – Green Venture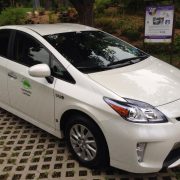 Green Venture is Hamilton's premiere environmental
outreach organization, specializing in school tours, urban gardening, and educational outreach to make Hamilton and surrounding areas a great place to live, work and play sustainably. The relationship between Green Venture and Community CarShare is a match made in eco-friendly heaven, it just makes sense!
One of the ways Green Venture 'practices what they preach' is by being both a Corporate Member and Partner of Community CarShare through our CarShare Anywhere program. Green Venture funds and provides a home to a plug-in hybrid electric vehicle (PHEV) on the stunning grounds of EcoHouse, located at 22 Veevers Dr. They use the vehicle in many ways, including as an education tool on electric vehicles, and a sustainable mode of transportation for staff.
Green Venture decided to become a member of Community CarShare when their old van (seen on right) retired from being the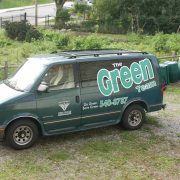 on-site vehicle at EcoHouse. Using Community CarShare as their mode of transportation not only made economic sense (no more maintenance or insurance bills) but also streamlined their scheduling by allowing multiple staff to schedule bookings independently. They also enjoy the ability to cater the size of the vehicle to the size of job, improving environmental efficiency by only using larger vehicles when required.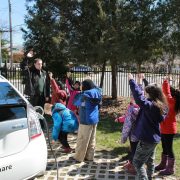 Green Venture's commitment to environment and community doesn't stop at providing sustainable transportation to its employees; they also use the Prius to introduce valuable lessons to emerging young minds. On their grade school tours the electric hybrid vehicle is used as a visual aid to discuss energy conservation which in turn grabs the attention of their teachers and parents. Educating children on sustainable modes of transportation is essential for changing thought patterns on car ownership, which they take home with them and eventually take to adulthood.
http://communitycarshare.ca/wp-content/uploads/2016/11/Since1998Button.png
846
846
Community CarShare
http://communitycarshare.ca/wp-content/uploads/2015/06/Logo-Dark.jpg
Community CarShare
2017-04-05 16:28:57
2017-04-18 16:08:15
What did Green Venture do when their van broke down?